Posts Tagged 'cute'
Laurel Green posted a photo: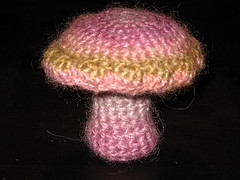 Amigurumi is the ancient Japanese art of knitting or crocheting things that are cute or, if you will, "kawaii".
Here, I have crocheted an amigurumi mushroom. I shall make a place for in amongst the clutter of my desk.
I can't decide whether or not to give it googly eyes.
Click for bigger.